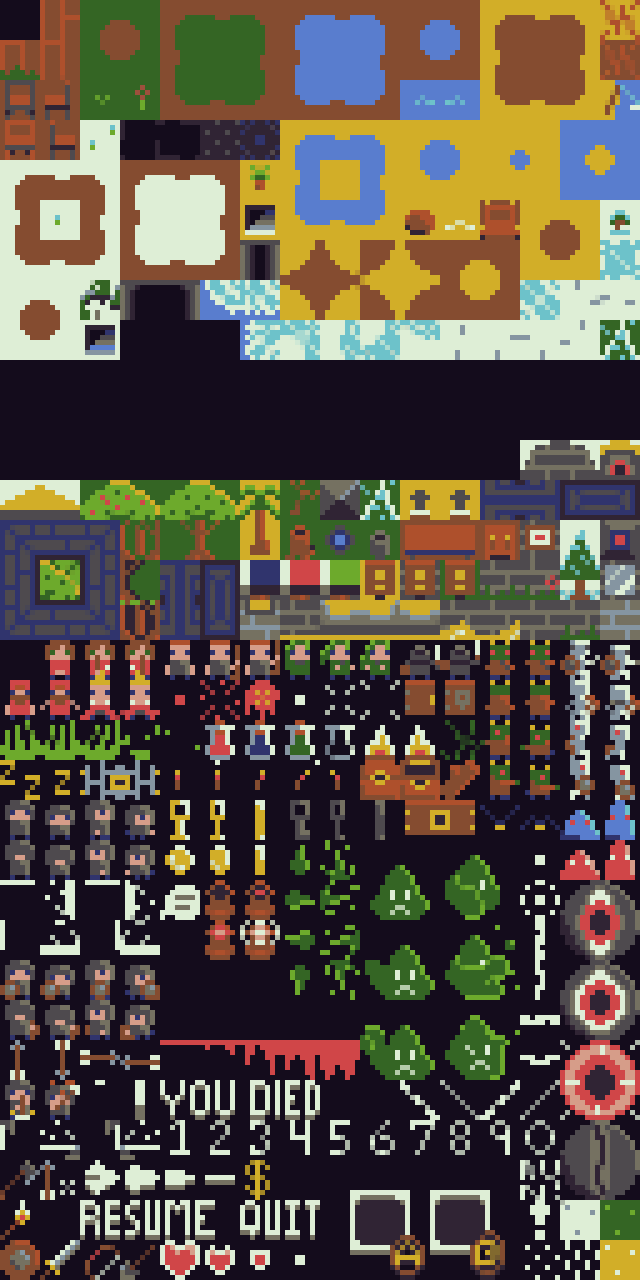 RPG 8x8 Tileset and sprites
A downloadable Sprite Sheet
I am learning Programing (Lua for the TIC80, specifically), and made a bunch of tiles for an RPG game. this is a VERY small game (the TIC-80 allows 255 sprites, and 255 tiles). The top 255 tiles are for the background/map, and the second set of 255 are for sprites. for the purpose of my game i did not add a lot of background sprites, but I did add enough for grassland, forest, desert, beach, and tundra. I have included NPC's, Items, a UI, 2 bosses, 6 enemy types, chests, and more. If you use these in a game, please let me know! I would love to see what you come up with. (if you put me in the credits, even better!)
For the player, there are 2 sprites for facing in each direction (for walking), with and without the shield. Also, included are sword swings, ax swings, shovel digging, arrow attacks (4 directions), and status effects.
Everything was created inside the TIC-80 sprite editor with only 16 colors
Edit notes: I added an item to the sprite sheet: a ice skate It was something that I was meaning to add from the beginning (the hole was there in the sheet) but forgot to add. Also added GIF of the player equipping a shield and swinging a sword
Download
Click download now to get access to the following files:
Eli 8x8 sprites transparent.png
12 kB
Comments
Log in with itch.io to leave a comment.
Hey, could you give us this without this dark background?
Took me a while (photoshop was being a pain, and I can't not find a way to do it in the TIC-80 editor), but here you go! I ended up just loading it into Piskel and using the paint bucket to 'paint' all the dark tiles transparent. Let me know if it works for you!